Hi, my name is David and I'm a flashoholic
I used to think a mini-Maglite was a great little light!  Times have changed and so have my views on flashlights.  I have a bunch of flashlights and will very likely get more.  I've had the opportunity to pick the brains of folks who know a lot more about flashlights than I do and now I have a fair understanding of batteries, LED's, drivers etc and have even modded several flashlights.  Yay me
For my on-my-person EDC I carry two different flashlights on a separate keychain from my car/house keys.  I carry a Fenix E05 and an Acebeam L10.  This gives me an AAA light and an AA light. 
Fenix E05
◦High: 85 Lumens (Ni-MH: 1 hour; Alkaline: 45 min.)
◦Mid: 25 Lumens (Ni-MH: 4 hours 15 min.; Alkaline: 4 hours 15 min.)
◦Low: 8 Lumens (Ni-MH: 14 hours 30 min.; Alkaline: 15 hours)
Acebeam L10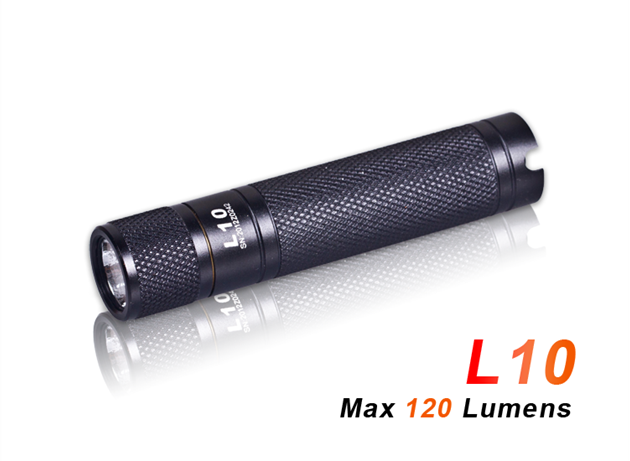 Brand: Acebeam
Material: Aviation aluminum
Product Type: Mini FlashLight
Color: Black
Quantity: 1
Features
LED: Cree XP-G R5 LED with lifespan of 50,000 hours Max output 120lumens (1*AA
NiMh or Alkaline battery )
Output Modes (select by twisting head)
Mode 1: Firefly 0.09lms (147hour)
Mode 2: Low 30lms (13hour)
Mode 3: High 120lms (1hour&30min)
Mode 4: Strobe 120lms With Memory Function
Working Voltage : 1.5V
Impact resistance:1.2Meters Waterproof to IPX-8 standard
Size: 79mm(length)x17mm(head diameter)x17mm(tube diameter)
Weight: 20g(without battery)
Made of durable aircraft grade aluminum Premium Type III hard-anodized anti-
abrasive finish Toughened ultra-clear glass lens with anti-reflective coating Copper
base plate for more efficient heat Shiny smooth reflector and get perfect beam
I use a pocket suspension clip to keep them from bunging up in the bottom of my pocket.  Bought them for 79 cents on Ebay.
Governmental dependance makes for poor self reliance.
"

What could possibly go wrong with a duct tape boat

?"  Cody Lundin
The best defense against evil men are good men with violent skill sets.